Why Are You Still Not Fast Enough?
When you go to the gym, practice field or track as part of your training for running speed and then after a good amount of time working out and doing drills you may be thinking that you have done everything you possibly can to help you get faster, however the fact is you have left behind upwards of 50% of the muscles responsible for running faster.
In addition, the muscles you have been training are not making you faster as you may be hoping.
The proof is in the results. When was the last time you had a major breakthrough in your speed gains? How often have you been frustrated trying to get faster no matter how hard you worked at it?
Doing the same thing over and over and expecting different results is a definition of insanity
And yet athletes continue to go through the same rigorous workout routines time and time again hoping to get faster and occasionally they get a small gain in their speed which may or may not last.
And this happens to close to 100% of all athletes on all levels from high school to professionals; it doesn't matter who they are or how hard they try.
There are perhaps several reasons why half the muscles involved in running go untouched.
Why half the muscles used in running are ignored
First
, ALL gym equipment is designed to help an athlete with the PUSH PHASE of running only but there are actually two other phases to consider. Squat racks, hamstring curls, leg extensions, leg presses, glute kick backs, lunges, etc. all target the hip extensors, leg extensors and calf muscles. While these machines are helpful, the muscles they target are for the push phase only.
Second
, ALL plyometric exercises do the same thing: box jumps, bounding exercises, steps, medicine ball workouts, etc. all target the same muscles except they add the element of motion to them. Good idea, but it won't change anything much more than what you are already doing, and that is 'overtraining' the muscles involved in the push phase.
Third
, training routines like running with a weight sled or a parachute tied around your waist is another good idea, but this still only targets the same push phase muscles that weights and plyometric exercises are already training.
Fourth
, when it comes to sports, resistance bands are often used the same way as a weight sled or parachute. This is where the athlete ties the band around his waist and another athlete or trainer holds the band behind them as they try to run forward. Good idea, but no change in the muscles targeted which are all push phase muscles.
Do you see a pattern? All this effort is being put into only one phase of running. Could this be why athletes are frustrated with their attempts to get faster and why they end up believing we have to be born with speed?
The Ignored Muscles are the Strongest in the Body
What about the other muscles used in running speed?
The muscles I am talking about are the Psoas, Iliacus, Sartorius, Vastus Rectus, Pectineus, Adductor Longus and Addutor Brevis, otherwise known as your
hip flexors.
These muscles as a group constitute the strongest muscle group in the body but in spite of their incredible inherent strength, they still go largely untrained by most athletes, including professionals.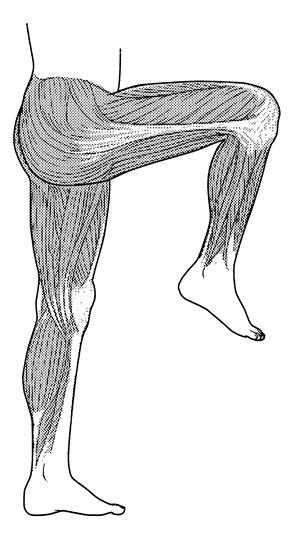 Thigh flexors or hip flexors.

Main function is to raise your thigh and swing it forward.

For instance, when was the last time YOU trained your ILIACUS MUSCLE? How about never!

Why is this important? Several reasons:
Why are Hip Flexors Crucial for Speed Gains?
First
of all, the hip flexors determine your stride which is the part of the running process that determines how much ground you are going to take up when running, but that's not all. Having a long stride is not nearly as effective as having a FAST LONG STRIDE.
Quick hip flexors help your body speed up your turnover rate, that is, to recycle the leg around in the running process. The quicker it recycles the faster you start to run.
Second
, as you desire to become a complete athlete, try to think of your hip flexors as a bridge between your upper body and lower body.
These are long and incredibly strong muscles which enable your upper body to work in synch with your lower body. These muscles are crucial for maximum speed and athletic performance, yet still no one touches them.
Weak Hip Flexors Will Make You Slower
As an athlete you can have all the upper body strength and lower body strength in the world, but if they aren't connected together with an equally strong set of hip flexors, you will always be weaker and slower than your true potential no matter how many squats, leg presses, box jumps or sled pulls you do.
Stronger Hip Flexors Will Make You Faster in Days
The
good news
is that every athlete, including top level professionals, has a huge potential of increasing their running speed in just a few days.
But you can't get at these muscles with standard gym equipment. The only way I have found to effectively isolate and increase the speed of these muscles is with isometric training using the resistance band. No other workout is more effective at making these muscles faster.
The amount of time needed to train these muscles to show measurable improvements in your running speed is literally just minutes a day for just a few days a week.
This happens all the time and without exception.
With weak thigh flexors, your running speed will be significantly slower, more than you would imagine. With fast thigh flexor muscles you will be faster than ever before.
Even if you are currently in mid-season you could be setting new personal records in your speed within days. Your friends, coaches and teammates will be amazed - and
you will explode past your opponents like never before!
If you have not used isometric training with the resistance band, the way we teach it, to your thigh flexor muscles, you have a huge reservoir of untapped muscular energy just waiting to be released - even if you think you are already fast enough!
By doing the
speed training exercises
the way we show you, you can't help but improve your sports performance and stand out from the crowd, and run your fastest 40 ever!.
"I'd just like to say that the RUN FASTER speed training exercises that I did last season worked!! Initially, they helped me take a second off my best 100m and 200m times.

I was ranked second in my state and in the Southern Track Classic I broke the 200m record set by an NFL Pro-bowler.

Thank you for coming up with this program. I recently bought two more sets of resistance bands, so expect more reports from me very soon."


(More Results...)
"I just wanted to say that I love this program. So far after one month I have greatly decreased my forty yard dash time. It has dropped from a 4.91 to an amazing 4.53! ... I recommend this program to any and everyone."


(More Results...)
"Hi, i just recently ordered your run faster speed training program for my son. The results were amazing. Before your program my son ran a 5.43 40 yard dash. After just two weeks his time dropped to a BLAZING 5.00!! My son will continue to use this program. His goal is 4.87 and I know he will reach it. I will keep you posted."


(More Results...)
Speed training, as the name implies, should be fast, and not take up much time!
One of the nice things about the Run Faster speed training program that most of our athletes report back to us about is that it only takes a total of about 15 minutes a day to complete. That's it.
This allows them to seamlessly integrate the speed training strategies that you will learn here on this website right along with any other current training program they are involved with.
This is a big deal since most athletes, and perhaps most people, are on a tight schedule, whether it be with school, in their professional careers as well as for making time with their friends and families. There's nothing better than getting your workouts completed in a very timely manner.
Coaches and trainers also like using the program for the same reason. In the past, it was difficult for them to get their athletes to add something extra to their existing routines, especially if it took a long time to complete.
But as most players and coaches know, 'speed kills' and if all it takes is simply putting in a few extra minutes a day to drop an extra .1 to .3 seconds of your 40, then who wouldn't be motivated to try it?
Now as good as the 15 minutes a day sounds, perhaps an even bigger motivating factor to start using the Run Faster program is that results come fast.
By 'fast' we are talking about 14 days on the average. That's really encouraging to say the least but it has also been the expectation for those who diligently apply themselves to the exercises.
And since results come that quickly, this means that you can start the training even in the middle of your season and expect to make an impact by your next game or two. That's huge!
You would be hard pressed to find any other training strategy that can deliver results like this in less time.
In fact, that's part of our challenge to you; to see if you can not only run your fastest 40 within 14 days, but to also see if you can find any other training strategy that can produce similar results in the same amount of time.
There's lots of reasons to be excited about the program but it all starts with you taking the first step. Be sure to watch the video on this page and download the training instructions.
Also be sure to sign up for the free training booklet where you will get immediate access to our Speed Training Secret videos series where you will learn all about how to run faster!
Muscle Speed Expert
NFL Receiver Billy McMullin shocks quarterback with new speed after using Run Faster Speed Program

Review Full Program Here
All 10 running Speed Exercises with Complete Instructions, Video Demos, Progress Charts, Workout Schedule, Resistance Bands and more!